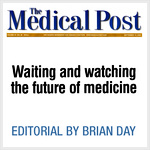 Waiting and watching the future of medicine
Sep 19, 2006
Medical Post Editorial
By Rick Campbell

It was a cold, rainy night in November 2003. The Medical Post was launching its 40th anniversary doctor dinner meetings across the country. At this particular table was a wide diversity of medical expertise, to say nothing of philosophy. From the voices of experience, of youth and of gender, issues were debated and points made, sometimes forcefully, always constructively. All in all, things were going well.
A mild observation. One attendee sat near one end of the long table, eating methodically, looking tired after a long day at the clinic, occasionally raising an eyebrow, or a well-thought point. Observing him closely, one drifted back to a comment whispered by one of the other attendees that evening at a pre-dinner reception.
"If you're looking for great stories to tell, you won't find a better one than his. Fascinating guy, he's so far ahead of the curve. Right over there, the future of medicine in this country." A statement that was hard to forget.
Back to real time, and the question was tabled: "What kind of stories would you like to see in the Medical Post?" All attendees spoke freely. This is what they came for, to vent, to plea, to guide, to implore. Great suggestions, spoken from the heart. It's how we connect best with our readers.
Mr. "Future of Medicine" didn't disappoint. Pushing his dinner to the side, he straightened up, leaned forward and spent about 10 minutes asking us, and cajoling us, to go and think beyond our borders, literally and figuratively. To help find solutions to our faltering health-care system, to help Canadians step out of our annoyingly complacent comfort zone and to challenge the status quo, in and for a country that deserved better than it was getting. Scan the globe, he said, not just across the backyard fence where the naysayers camp out, and find out why and how adopting from a world of best practices could cumulatively rejuvenate and revitalize a once-proud system. One eminently worth saving, but also worth updating. Words to that effect. Advice we have followed on a number of fronts.
It appears none of his passion has waned in the intervening years. If anything, the fires burn even brighter. And now, he sits at another table, observing, learning, finding his way. So when the time comes, when his time comes, he will be prepared to lead, and to build.
Soon enough, Canadian Medical Association president-elect Dr. Brian Day will have his day. In the meantime, he will necessarily seek to understand. And be understood. He is a fascination, in waiting.